fun at the Friendship Home!

---
We celebrated Veterans Day by honoring the Veterans who reside and work at the Friendship Home. Resident Veterans:
Mark Gustafson - Air Force, Ralph Huffman - Army,
Dale Edwards - Army, Walter Noelk - Army.
Staff Veterans: Jeff Hernandez - Air Force, Chris Finley - National Guard.
Thank you for your service to our nation, the sacrifices you made, and your willingness to serve our country. Also a sincere thank you to the ladies that helped us celebrate this special day with a beautiful music program: Marlene Englin, Alice May, Joe Bean, Sue Kroeker, and thank you to Sharon Winterour for organizing the Country Players for this event.
---
Halloween is always a fright at the Friendship Home! We celebrated with a party in the afternoon and then hosted trick-or-treating for the community in the evening. More pics can be seen

here

.

A huge thank you to all who donated candy!

Becky Bruch - Tanya Marshall - Nadine Buffaloe - Trudy Hilsabeck Julie Knudsen - Badding Construction - Kathy Edelman - Shelli Testroet - Jacquie Albertsen - And all who donated anonymously
---
We had several activities with the Children's Nest during October. From balloon toss game and painting pumpkins to trick-or-treating! You can see more fun

here

!
---
---
---
Tyler Bruck with Audubon County Conservation Board came to give us a lecture on the Monarch Butterfly Program. He brought in a milkweed plant as well as a chrysalis for us to see. We are hoping to have him return in the spring for another program and to plant some milkweed on the Friendship Home grounds.

More pictures

here

.
---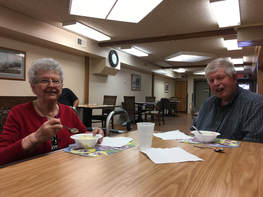 We celebrated Grandparent's Day on September 10th with a yummy ice cream social! With three kinds of ice cream and toppings from caramel and chocolate to gummy bears and cookie pieces we had it all! Click
here
to see more of the fun.
---
---
---
On Tuesdays and Thursdays students from Ms. Oster and Ms. Anderson's second grade classes come and practice their reading skills with the residents. More pictures can be seen

here

.
---
Ohana means FAMILY at the Friendship Home!

On August 29th the staff and residents had a Luau with fabulous food, friends and fun! The staff had a race to see who could dress in a hula skirt, coconut bra, lei and hat and hula the fastest. The residents played flip the flip flops and raced through a word search puzzle.

Refreshments included tropical punch, pineapple upside down cake and fruit skewers.

Click

here

to see all the festivities.
---
---
On August 23rd we had a Back to School theme day. Residents got a sack lunch which included a sandwich, chips, fruit and sweet snack. Several residents won coloring books, colored pencils and cupcakes for guessing how many colored pencils were in a jar, how many rubber bands were in a small container and getting the right math equation.

For more pictures of the theme day click

here

.
---
---

We celebrated Mother's Day on May 15th with a Mother's Day Tea and Juanita's Hat Program. Everyone got to take their turn modeling hats from the 50s and 60s. We got to snack on cheesecake and Roxie's cream puffs.

For more pictures of the celebration click

here

.
---
---

National Nursing Home Week was May 14-20. The theme was The Spirit of America. Celebrations included the kickoff, a carnival with the Children's Nest, BBQ and apple pie and ice cream.

More pictures can be seen

here

.