Following an illness or injury, you may need rehab therapies to get back on your feet. For those who qualify through their Medicare benefits, the Friendship Home can offer a wonderful setting to recuperate to your fullest.

Therapies Offered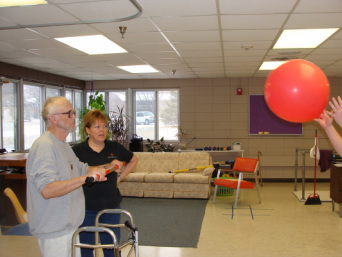 Physical Therapy - Physical therapy helps individuals reduce pain and improve or restore mobility. Therapists work with patients to prevent or manage a condition for their overall well-being. PT benefits individuals with injured joints, bones, muscle weakness or neurological ailments.

Occupational Therapy - Individuals in occupational therapy work on a customized plan to improve their ability to perform daily activities. The goal is to restore functional, independent living skills while recovering from an injury or illness and enhance both physical and mental health.

Speech-Language Pathology - Speech therapists work with individuals to assess, diagnose, and treat disorders related to speech, language, communication, voice and swallowing. Oftentimes individuals need speech therapy following a stroke.

---
Benefits of Staying at "Home"

● Comfortable room, with nursing staff to assist with all medical and personal needs

● Physical, occupational speech therapies offered on-site

● A rehab room designed to practice critical home skills and activities of daily living, such as using the kitchen, grooming and caring for yourself, and improving balance and strength

● Delicious, home-cooked meals

● Cable television in every room

● Beauty and barber services available on-site

● Opportunities to partake in a wide range of planned activities

● Time to socialize with friends and neighbors



---